Recommended Career Movies
Life as a House (2001) is an American drama film which focuses on a man who experiences an unexpected turn in his career.  After a series of life-altering experiences, that lead him down a different path he changes his life goals and begins to repair his relationship with his ex-wife and teenage son.  
Starring Kevin Kline, Kirstin Scott Thomas, Hayden Christensen, Jena Malone, and Mary Steenburgen.
References:
Source: Wikipedia, Life as a House (film), https://en.wikipedia.org/wiki/Life_as_a_House Retrieved 12th May 2022 
The Big Short (2015) is an American biographical movie based on the 2010 book The Big Short: Inside the Doomsday Machine by Michael Lewis.  The movie shows how the financial crisis of 2007–2008 was triggered by the United States housing bubble.
The movie is primarily based on the career choices of eccentric hedge fund manager Michael Burry, who discovers that the US housing market, is extremely unstable. In 2005 he anticipates the market's collapse in the second quarter of 2007, and bets against (or shorts) market-based mortgage-backed securities, for profit.  His prediction is unpopular and ridiculed by colleagues, investors, banks and major financial institutions.  
This is a star studded movie featuring Steve Carell, Ryan Gosling, Christian Bale, Brad Pitt, Marisa Tomei, Margot Robbie and Jeremy Strong.
References:
Source: Wikipedia, The Big Short (film), https://en.wikipedia.org/wiki/The_Big_Short_(film) Retrieved 12th May 2022 
War Dogs is based on a true story, about David Packouz who enters a business partnership with his old friend Efraim.  They form a company selling arms to the US Government for the ongoing war in Iraq.  This movie is about the story of two men running a startup business, which rapidly grows after they are contracted to supply ammunition worth $300 million.  Considering this is a true story, the journey that unfolds is eye-opening.  
Featuring Jonah Hill, Miles Teller, Ana de Armas, Bradley Cooper, Kevin Pollak and David Packouz himself.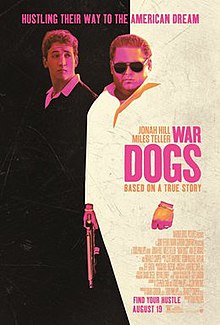 References:
Source: Wikipedia, War Dogs (2016 film) https://en.wikipedia.org/wiki/War_Dogs_(2016_film)  Retrieved 13th May 2022 
The Pursuit of Happyness (2006) is an American biographical drama film starring Will Smith as Chris Gardner, a homeless salesman.  It is based on Gardner's nearly one-year struggle where he experiences a marriage breakdown, becomes a single parent to his son and becomes homeless.  His journey leads him to a chance meeting which earns him the opportunity to become an intern stockbroker, which has the potential to completely change the course of his life.
Starring Will Smith, Jaden Smith, Thandiwe Newton, Brian Howe, and James Karen.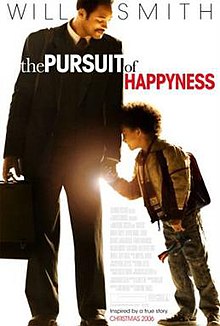 References:
Source: Wikipedia, The Pursuit of Happyness, https://en.wikipedia.org/wiki/The_Pursuit_of_Happyness  Retrieved 12th May 2022